Beginning January 2, 2021, Worship Service in the sanctuary will re-open with limited seating of 50 people. 
Adult Sabbath School class with continue on Zoom.  There will be no in-person Children's Sabbath School classes at this time.
To Reserve Your Seat for Worship Services, please read the following document first: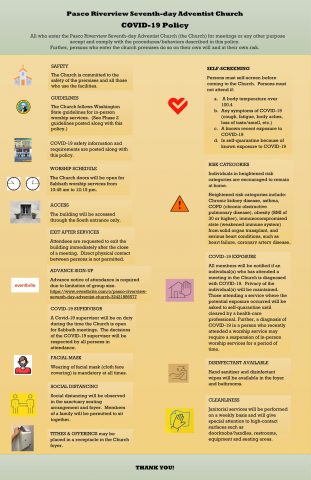 ---
WA State - Covid-19 Religious and Faith-based Organizations Requirements, Jan 11, 2021
---
Reserving your seat at the following link means you agree to and are willing to follow the Pasco Riverview Seventh-day Adventist Church Covid-19 Policy stated above.

Please refrain from reserving seats two weeks in a row to provide everyone an opportunity who would like to worship in person.

Enter the name of each family member when reserving more than one seat.
Next, follow this link to Reserve Your Seat:   
EventBrite Reserve Your Seat Registration