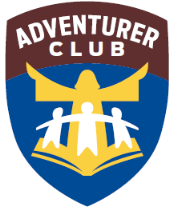 Calling all children ages 3-9 (Pre-K – Grade 4) to join the Adventurer Club at Riverview! The Adventurer Club is a Bible based, family friendly kid's program with a central focus on the love of Jesus. It is a place where young families can come together and show their children the love of God through a Christian based curriculum to learn Christ-centered values, health and fitness, crafts, nature, household arts, recreation, and social skills. There are six class levels available. Our club is blessed with an amazing group of creative and energetic teachers who focus on engaging the kids in all sorts of activities and games to help them know God and how much they are loved by Him.
The Upper Columbia Conference sponsors two activities each year: Awards Day and Family Fun Day. It is exciting for the children to participate in these well-planned programs that include the whole family and children from all over Eastern Washington and parts of Oregon and Idaho. The club also gives the children a chance to lead out in worship service each year for an Adventurer Sabbath worship service.
If you live in the area, consider this a personal invitation for your kids to join us. Meetings are held twice a month on Wednesday evenings from 6:00-7:15pm from September-April. The club calendar is posted every August on this web page. There are no club fees. Your child's safety is our first priority. All Riverview Adventurer teachers are screened, trained, and pass a background check.
So, come join the fun! Hope to see you and your child real soon!
       Click HERE for 2018-2019 Pasco Takoda Eagles Adventurer Club Schedule.